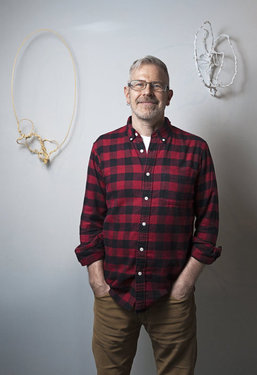 Rooted in the aesthetics and philosophies of the New York and Northwest Schools as well as Asian art, Schatz maintains a diverse practice that explores the sensuality of gesture and line and the dynamism of pictorial and sculptural space. Notably, his work has been exhibited with that of Eva Hesse, Sol Lewitt, Robert Mangold, François Morellet, and Fred Sandback, while curator Jonathan Frederick Walz has also noted affinities with the work of Richard Tuttle and Alexander Calder. Museum director Thomas Sokolowski described his work as "lush skeins of finely measured and almost mathematically paced staves of pure feeling." And the Paris-based poet Nina Zivancevic has written that his work "attests to the futility of our attempts to tame the wild and unpredictable."
Over the past three decades Schatz has exhibited in Austria, Bulgaria, Canada, France, Germany and the UK, as well as in the United States. Museum venues have included the Sheldon Museum of Art (Lincoln, NE), Sofia City Art Gallery (Sofia, Bulgaria), Landesmuseum Oberösterreich (Linz, Austria), and the Derby Museum (Derby, UK). Gallery and project venues have included Jason McCoy Gallery, TenBerke, The Phatory LLC, The Painting Center, George Billis Gallery and Nicholas Davies Gallery (all New York), Curious Matter and Art House (Jersey City), The Institute For American Art (Portland, ME), The Green Door Gallery and Pluto Gallery (Brooklyn), Propeller Centre for the Visual Arts (Toronto), Exile (Berlin), Galerie Pixi (Paris), and the South London Gallery (London). University and college venues have included New York University, Southern Methodist University, the University of Scranton, Cedar Crest College, Marymount Manhattan College, and the University of Strathclyde (Glasgow). His works are in the permanent collections of the Harvard Art Museums, Meadows Museum, Sheldon Museum, the US State Department, the University of Scranton, Pfizer, and The JBG Companies, as well as in private collections in the United States, Canada, and Europe. He has also donated artwork to benefit auctions for Visual AIDS, Empire State Pride Agenda and Act Up.
Schatz was born in Allentown, Pennsylvania, and as a young man he studied at the Baum School of Art there. He earned a bachelor of arts magna cum laude in history and philosophy at the University of Scranton, while also attending studio classes offered at the Everhart Museum in Scranton. He continued fine art studies at the Barnstone Studios in Allentown before moving to Boston, where he studied at Massachusetts College of Art and The Art Institute of Boston. From 1987 to 2022 he lived and worked in New York City. Currently he divides his time between New York and his hometown, and on occasion he's been heard playing the Appalachian dulcimer.